Meet the Scoutmaster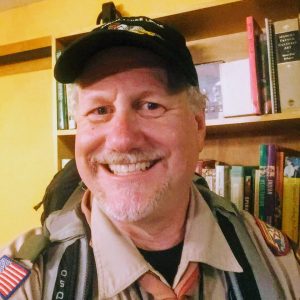 Hi, my name is Jonathan Lyons and I'm very proud to be Scoutmaster of Troop 115. My son and I crossed over to the troop in the spring of 2013 from Pack 114. I became an Assistant Scoutmaster (ASM) the following year after completing Introduction to Outdoor Leadership Skills (IOLS) and Scoutmaster specific training.
In 2015 I attended and completed my Wood Badge (advanced leader) training and had the extreme privilege to be inducted into BSA's honor society, the Order of the Arrow, later that year along with my son. We both earned OA Brotherhood the following year.
I served this troop as both ASM and camping coordinator until I became the Scoutmaster in December of 2018. I feel very lucky to continue this troop's tradition of Scout led leadership. I feel like our scouts can achieve anything that they set their minds and efforts to completing.
In addition to serving as Scoutmaster of our troop, I have been an active member of my synagogue for over two decades, where I served several terms on the synagogue board. I earned my national ranking as a triathlete in 2017. I'm also an avid woodworker and juggler.
If you have any questions about our troop, please feel free to contact me through our website and I will get back to you as soon as I can.